40 Great Parenting Quotes
Disclosure: This post may contain affiliate links, meaning I may get a small commission if you decide to make a purchase through my links, at no cost to you.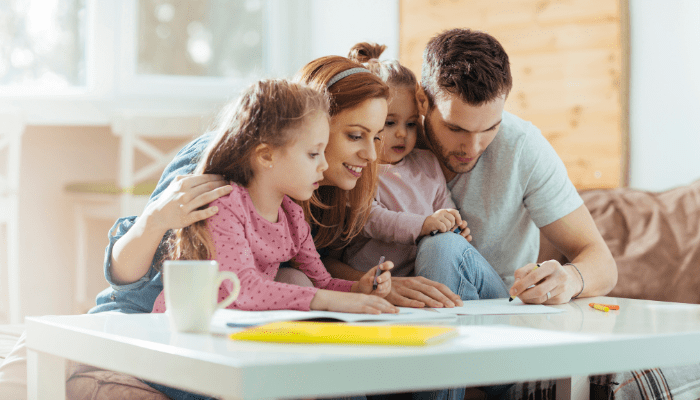 Why not send one of your favorite parents a card today. Most of us who write letters or want to send a greeting card spend quite a bit of time finding just the perfect thing to say. Maybe you can include a parenting quote in a card for a single mother who has been struggling, or a parent who can use a boost because of the challenge of parenting. Below, we have included some of our favorite parenting quotes.
Mom and Dad Quotes
If Dad is my heart then Mom is my heartbeat.
No love is greater than Mom's love and no care is greater than Dad's care.
A good father is a source of inspiration and self-restraint. A good mother is the root of kindness and humbleness. Dr T.P. Chia
Everything I am, you helped me to be.
One of the greatest titles in the world is parent, and one of the biggest blessing in the world is to have parent to call Mom and Dad. Jim DeMint
Every kid needs to say, "I want what my mom and dad have." Jack McDowell
One of the blessing of becoming an adult is finally seeing my mom and dad as people, not just parents.
A father's goodness is higher than the mountain. A mother's goodness, deeper than the sea. Japanese Proverb
Parents don't make mistakes because they don't care, but because they care so deeply. T. Berry Brazelton
My mother protected me from the world and my father threatened me with it. Quentin Crisp
Single Mom Quotes
Being a single mom is twice the work, twice the stress and twice the tears, but also twice the hugs, twice the love and tice the pride. Unknown.
She has to have four arms, four legs, four eyes, two hearts and double the love. There is nothing single about a single mom. Mandy Hale
"Whenever you feel discouraged, just remember, you are the center of the universe to the tiny humans you made from scratch. You're kind of a big deal." Unknown
Single moms are superheroes who just don't wear capes. Unknown
Be happy in the moment, that's enough. Each moment is all we need not more. Mother Teresa
It takes one rad mama to be a father too.
Being a single parent is not a life full of struggles, but a journey for the strong. Meg Lowery
You never know how strong you are until being strong is the only choice you have. Unknown
A single mom has a backbone made of steel and a heart made of gold. Unknown
Dear Single Mama: Give yourself a chance to breathe, single mama. Those babies, sleeping in their beds, that you worry over? They are loved. So much. And they know that. And in the end, love is always big enough. Mary Katherine Beckstrom
Love Parenting Quotes
Parental love is the only that that is truly selfless, unconditional and forgiving. T.P. Chia
You are the best thing I've done with my life. Unknown
Each day of our lives we make deposits in the memory banks of our children. Charles R. Swindoll
There are places in the heart you don't even know exist until you love a child. Anne Lamott
When you look into your mother's eyes, you know that is the purest love you can fin on this earth. Mitch Albom
Until one becomes a mother, no one can ever tell you what it will feel like to love someone else so deeply and profoundly that you will rejoice when they rejoice, ache when they ache, feel what they feel –even without ever speaking a word. Jennifer Quinn
To my kids…When I tell you I love you, I don't say it out of habit or to make a conversation. I say it to remind you that you're the best thing that ever happened to me. Unknown
A Parent's Prayer: Thank You for my children, Lord; I know they are a gift from You. Daily I need Your strength and wisdom to train them in what they should do. Give me patience and a joyful heart; let me be an example of Your love and forgiveness. Thank You, Father, for the honor of being a parent. Amen. Unknown.
"What it's like to be a parent: It's one of the hardest things you'll ever do but in exchange it teaches you the meaning of unconditional love." Nicholas Sparks
When I look in the mirror, I see my parents' sacrifices being honored. I see the love from which I was created and the power of the human spirit. – Author: Zulay Henao
Bad Parenting Quotes
When feeling bad about your life remember that everyone else does too. Especially your parents.
The hardest job kids face today is learning food manners without seeing any.  Fred Astaire
Good parenting gives headaches, but bad parenting gives heartaches. Shiv Khera
Having a child who is struggling doesn't make you a bad parent, just as being a child who is struggling doesn't make your child a bad kid.  Ann Douglas
You know you've grown a lot as a parent when you watch your kid lick something in public and think: "Eh. He's licked worse." Unknown
Parent's mentality: I'm in a bad mood, so I'll yet at the kids to make sure they're in a bad mood too. Unknown
Just because your pain is understandable, doesn't mean your behavior is acceptable. Dr Steve Maraboli
The way we talk to our children become their inner voice.
My friend asked me recently what the most difficult part of being a parent is.."Without a shadow of a doubt, it's the kids" I replied. Unknown
Instead of talking about 'good vs. bad parenting'. I thing of it as 'effective vs. ineffective parenting'. Remember, if you're doing something that's ineffective with your child right now, there is always hope, because you can change. James Lehman
More Quotes
100 Quotes for Achieving Goals
We hope you enjoyed our parenting quotes. Please comment below with your favorites. We would love to read them.
GET FREE ACCESS TO OUR LIBRARY OF FREE PRINTABLES AND RESOURCES!
Enter Your Name and Email for FREE Access to our Library of FREE Home and Family Printables Series!